Temperature Technology
Temperature measurement and monitoring
About us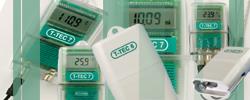 Temperature Technology manufacture and import a selected range of instruments for measuring and monitoring of temperature and related physical quantities, pH, mA, RH. These include thermometers, dataloggers, circular chart recorders and refrigerated vehicle (for trucks and vans) recorders with printing ability. Our selection criteria include price, accuracy, resolution, usability and durability, based on more than 70 years combined experience with temperature measurement and monitoring. More about Temperature Technology.
TempReport app available on Google Play Store and Apple App Store. 
From those with cloud subscription, the new mobile app allows you to receive temperature updates and alarms on your mobile phone.
Latest software update
Latest version of our software is T-TEC 16.5. 
Why wireless T-TEC data loggers for food premises?
Find out more in What's in it for me?
Would you like to be able to access your data loggers remotely at all times? Via radio, WiFi or Cloud? 
You can with TempReport! Would you like to try TempReport before committing to the purchase of software and equipment? 
New data logger stories!
Kirsten has added some of her stories about her experiences with customers using data loggers to investigate difficult temperature issues in the new page, data logger stories.
Watch our new video!
Latest News!
Wireless data logging using radio frequency at 433MHtz, with a range of 350 meters with standard equipment (range can be extended with antennae and repeaters). The T-TEC C, E and F all have wireless counterparts. It's so new, not all of the data is on the website, yet.
See it in our video!